5.9.2012: Intel hat neue Version 2013 Produkte herausgebracht und Preise geändert ! Link zum Intel Software Network
Die Informationen der Intel-Seiten von mathemas ordinate werden überarbeitet !
---
Links zu den neuen Produkten
Allgemein gilt:
- Einige Produkte finden Sie im webShop. Die Preise anderer Produkte auf Anfrage !
- Intel-Produkte gibt es auch als floating-Lizenzen, zu besonderen Bildungswesenkonditionen, und
- es gibt auch SSR (Support Service renewal). Bei Kauf einer Neulizenz ist 1 Jahr SSR enthalten.
Intel® Product Suites
bieten in einem Paket Compiler und zusätzliche integrierte Tools zur Parallelprogrammierung für Windows oder Linux
---
Composer
Intel nennt elementare Pakete mit Compiler mit essentiellen Tools Composer
---
Tools for Intel® Atom™ Processor
---
Intel® Performance Libraries
Intel® Integrated Performance Primitives (Intel® IPP) for Windows and Linux
Intel® Math Kernel Library (Intel® MKL) for Windows and Linux
Intel® Threading Building Blocks (Intel® TBB) for Windows, Linux, and Mac OS X
---
Performance Profilers
---
Thread and Memory Checkers
---
Threading Assistant
---
Cluster Tools
Intel bietet nicht nur Hardware sondern auch exzellente Werkzeuge zur Softwareentwicklung. Angesichts der MultiCore-Architektur der Prozessoren, betont Intel das Thema "Parallel Programmieren" und bietet daher neben C++- und Fortran-Compiler diverse Entwicklungswerkzeuge speziell für diesen Zweck. Tools für Parallelcodebearbeitung sind jetzt Teil der Entwicklungspakete.
Quellen zur Weiterbildung:
Intel Developer Forum | Intel YouTube | Eine Webinarreihe von Intel


Intel® Entwicklungsumgebungen bieten die beste Unterstützung bei der Erstellung von Programmen mit Multi-Threading. Sie bieten: Advanced Optimization, Multi-Threading und Prozessor Unterstützung mit automatischem Processor Dispatch, Vektorisierung, Auto-Parallelisierung, OpenMP, Data Prefetching, Loop Unrolling sowie hochoptimierte C++ Vorlagen für Parallelisierung, mathematische Verarbeitung und Multimedia Bibliotheken.

das umfassende Toolkit für Parallelprogrammierung speziell für C/C++ Windows Entwickler. Das Toolkit beinhaltet neue Produkte, die Windows-Programmierer beim parallelen Programmieren und der Interoperation mit Microsoft Visual Studio helfen. Preise auf Anfrage.
--> ein Beispiel für eine sehr erfolgreiche Anwendung: Simulia von Dassault.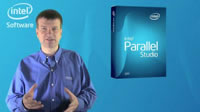 Klicken Sie oben, und Sie sehen James Reinders zur Einführung von Parallel Studio 2011